Alëxone
Alexone Dizac is a French artist, painter and illustrator, coming from the Graffiti world. He is best known for mixing paint drips, ghost tags drawn with a marker pen or a spray can, flames, one-line geometrical patterns, funny punchlines and of course his surrealistic bestiary such as beheaded or blind penguins, cats, strange looking elephants…
Dizac Alexander was born in Paris. At the end of the 80's, Alëxone discovered Graffiti Art, and at the time, he became interested in art. At the beginning of the Nineties, he sprays graffiti on subway trains and in waste grounds, which lasts two or three years. By the year 1995, he develops his calligraphic work under the name "Oedipe" which can be described as stretched calligraphies with curves and thick angles, some really minimalistics and others very dense, all painted on disused surroundings and buildings.
In the year 2000, he starts to introduce characters in his work and becomes Alëxone. It is at the sides of Jean Faucheur that he is initiated with the techniques of billboard posting. Thus, he creates works on paper intended for a precise place, which he will then stick in the streets.
He does not hesitate to use various mediums and supports: aerosol, paper, acrylic paint and resin… He integrates the collective "9éme Concept" and takes part in the itinerant exhibition "Sang Neuf " based on diversion of the medical care sheet of the French social security.
In 2005, Alëxone carries out his first personal exhibition, at Alice Gallery, based in Brussels. In June 2006 opens his first show at the Speerstra Gallery in Paris, entitled "C'est quoi ton blaze? Je tague ass!"
He is also a member of the Belgian crew, the GM (Gentle Men), with whom he artistically continues to explore urban territories. In June 2007, he participates at an in situ wall-painting for the show "L'Art Modeste sous les Bombes" at the Auberives' abbey.
Very colored, Alëxone creates a surrealist universe, with animals and characters, sometimes ridiculous, turning in derision today's society. His work is meticulous, and requires a long preparation. Playing with curves and introducing calligraphy in his colored landscapes.
Click here for a video on Alëxone Dizac
Cone The Weird
Born in Munich, Cone The Weird started doing graffiti back in 1993. He has been fascinated with various types of character design since his early childhood. Over the years, these characters have become ever more important, up to point where Cone almost exclusively uses character design in his recent works. Since 2006, he mostly draws black-and-white pictures with a focus on ink drawings. The underlying idea of this was to reduce effects in favour of being able to elaborate on the character design and content of the drawing. In 2004, Cone The Weird moved to Saarbrücken, Germany, to study communication design. He graduated with distinction and received a scholarship of the University of the Saarland. Following his graduation, he was offered the opportunity of working as a lecturer for illustration at the Hochschule der Bildenden Künste Saar (HBKSaar). Before moving to Saabrücken, Cone The Weird worked as a storyboard and concept artist at a film and television production company in Munich. He was heavily influenced by his early access to large book collections consisting of illustrated books, comics and specialist literature with lots of illustrations. Since his early childhood, he has been fascinated with the pictorial worlds hidden in these books, their contradictions and their inherent mythologies. From woodcuts of the late Middle Ages and Renaissance paintings to Surrealism and pop art, Victorian advertising prints as well as the design elements used in record covers—all of these different styles left their indelible mark on his creative development. Both in terms of their composition as well as their content, his unfailingly detailed drawings are structured in various levels of meaning, with all of these levels merging into one another to achieve perfect harmony. His self-portraits form a series of drawings that has become increasingly important for him over the last few years. More and more often, these drawings feature the figure of a bearded man with glasses—but he doesn't always appear in the same form, with his physical shape being varied in the most diverse manner. This approach is rooted in the concept of working with the various facets of a character. These self-portraits range from semi-autobiographical to entirely fictional contents. This series of drawings, which Cone The Weird considers an open experiment, is rooted in his creative background as a graffiti artist. He uses his own interpretation of the common graffiti style of spreading one's own name and, by working with character design, he benefits from a variety of opportunities to convey the content of his drawings more easily. Cone The Weird always tries to master the difficult balancing act of not being too explicit or even trivial in his works (with the first running the risk of becoming purely illustrative). Cone has already left his marks in various European countries, in the USA and in Hong Kong. His works are particularly widespread in the Greater Region of Germany, France and Luxembourg. At the end of 2010, he cofounded Bureau Stabil—a bureau for communication design—together with five friends and fellow design colleagues and has been working as a freelance illustrator, graphic designer and graffiti artist. While his work as an artist is becoming ever more important, he loves to gain additional experience in the various fields of his profession. Besides participating in several group exhibitions in Europe and the USA, he has been doing a lot of travelling in the last few years to be able to spread his works around the globe. He makes no essential distinction between his murals and his drawings, but rather perceives them as forming a unity. From his perspective, these contrary works are inseparably interwoven—just like yin and yang.
Follow Cone The Weird on Instagram
Dave The Chimp
Dave the Chimp has been riding skateboards since the mid 1980's, painting on found wood and making fanzines since the mid 1990's, and working in the streets since 1998.
He still does all these things, as well as exhibiting his art in galleries and museums world wide, working as an illustrator for a variety of clients, directing pop videos, compiling books, and curating exhibitions. Dave has exhibited alongside the leading names in the urban art scene, including Banksy, Blu, Miss Van, Swoon, Os Gemeos, Shepard Fairey, Space Invader, and Zevs. He was the first UK artist to have his own artist model shoe created by Vans, and a book of his work (Part Of Rebellion 2 - Dave the Chimp) was published by Publikat in 2009.
In 2011 he built his first concrete skateable sculpture "Papa und Ich" outside of the Bethanien, Berlin, and the wooden "friendship bowl" in the Awanganda Gallery, Wroclaw, Poland. He has since built the "Papa und Ich Speilplatz" skatepark in Milan, the "Troll Bridge Ramp" at La Condition Publique, Roubaix, France, and a 300 square metre course of assorted sculptures for his largest ever solo exhibition at Zone Contemporaine in Bern, Switzerland.
He is currently focused on change, encouraging exploration, protest culture and positive vibrations, with his "Human Bean" characters as the medium through which to go on this adventure.
Click here for a video on Dave The Chimp
Follow Dave the Chimp on Instagram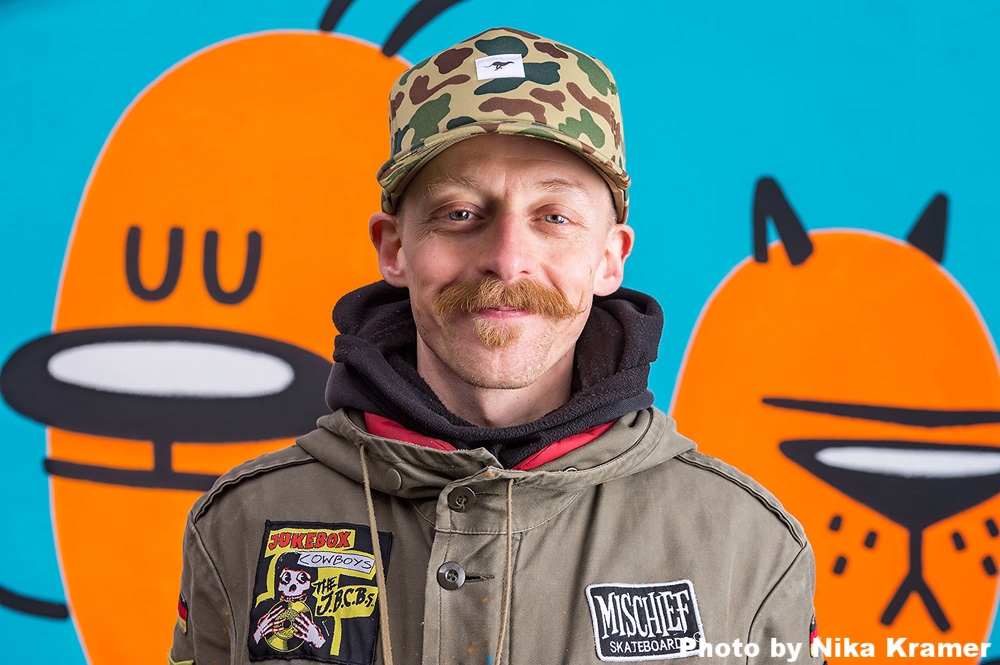 Spike
Spike has been conquering new ground since the mid-nineties. Following early forays in traditional graffiti lettering, his style became more and more dynamic, complex and overlapping...in other words, Wildstyle.
Having gained experience and established himself in the traditional graffiti field, Spike seized the opportunity at the dawn of the new millennium to explore new territory and experiment with a new direction.
Still basing his pieces on the letters S-P-I-K-E, he maintained the elaborated structure of his letters but reduced them down to their basic skeleton. They thus become graphic shapes, and are used mostly in monochrome.
Spike has abandoned the easy format of straight walls with high visibility to discover new canvases for his work. Atypical walls with unusual corners, rusting doors, broken windows...
These decaying structures, packed with history and time-ravaged textures, on the verge of being reclaimed by nature, have become Spike's playground. His new challenge is to examine the composition of the actual background to his work and determine how to best fit his shapes into that space. The environment thus becomes part of the composition, so that Spike can now truly play with the relationship between his letters and the emptiness of the wall. This allows the actual details of the structure to be showcased within the composition.
So, for Spike his art is no longer just about the act of painting. It is about the act of discovery, the scouting of new locations, capturing the history of these weird places and being one with a wall for a specific amount of time.
Spike's spiky, cutting, shapes themselves become part of the history of those abandoned places...sometimes only temporarily, sometimes getting to age with the building. The final snapshot is only a visual memory of this whole experience.
Alex Farto aka VHILS
Portuguese artist Alexandre Farto (b. 1987) has been interacting visually with the urban environment under the name of Vhils since his days as a prolific graffiti writer in the early- to mid-2000s.
His groundbreaking bas-relief carving technique – which forms the basis of the Scratching the Surface project and was first presented to the public at the VSP group exhibition in Lisbon in 2007 and at the Cans Festival in London the following year –, has been hailed as one of the most compelling approaches to art created in the streets in the last decade.
This striking form of visual poetry, showcased around the world in both indoor and outdoor settings, has been described as brutal and complex, yet imbued with a simplicity that speaks to the core of human emotions. An ongoing reflection on identity, on life in contemporary urban societies and their saturated environments, it explores themes such as the struggle between the aspirations of the individual and the demands of everyday life, or the erosion of cultural uniqueness in the face of the dominant model of globalised development and the increasingly uniform reality it has been imposing around the world. It speaks of effacement but also of resistance, of destruction yet also of beauty in this overwhelming setting, exploring the connections and contrasts, similarities and differences, between global and local realities.
Vhils grew up in Seixal, an industrialised suburb across the river from Lisbon, the capital of Portugal, and was deeply influenced by the transformations brought on by the intensive urban development the country underwent in the 1980s and 1990s. He was particularly inspired by the way city walls absorb the social and historical changes that take place around them. Applying his original methods of creative destruction, Vhils digs into the surface layers of our material culture like a contemporary urban archaeologist, exposing what lies beyond the superficiality of things, making visible the invisible and restoring meaning and beauty to the discarded dimensions buried beneath.
Since 2005, he has presented his work in over 30 countries around the world in solo and group exhibitions, site-specific art interventions, artistic events and projects in various contexts – from working with communities in the favelas of Rio de Janeiro, to collaborations with reputed art institutions such as the EDP Foundation (Lisbon), Centre Pompidou (Paris), Barbican Centre (London), CAFA Art Museum (Beijing), or the Museum of Contemporary Art San Diego (San Diego), among others. An avid experimentalist, Vhils has been developing his personal aesthetics in a plurality of media besides his signature carving technique: from stencil painting to metal etching, from pyrotechnic explosions and video to sculptural installations. He has also directed several music videos, short films, and one stage production.
His unique approach and artwork have been garnering critical acclaim around the globe.
Click here for a video on Alexandro Farto
Sumo
Sumo's work can be seen all around Luxembourg, but also in numerous cities around the world to which the artist has traveled at one point or another in recent years. Although an important, formative stage in his artistic development, graffiti and street art are merely one aspect of Sumo's bulimic work on images.

While Crazy Baldhead, the emblematic character he developed in the late 90s, also dominates his paintings, here, he no longer acts as a signature or a sign of appropriation of a given urban 'territory'. A pictorial motif in its own right, he becomes a pretext for extended formal investigations and variations.

Bursting with statements, slogans, motifs and intense colors, Sumo's compositions represent an abstract documentation of moments. His overall concept of time and space fills the picture plane in a sprawling, virus-like mode. Thanks to these countless details, each square centimeter could be seen as an autonomous work in itself, their sum creating a dizzying zoom-in, zoom-out effect.

The artist was nicknamed Sumo back in high school, well before he turned to graffiti; today, he hardly ever uses his birth name, whether privately or professionally. The nickname is therefore much more than a pseudonym for the artist whose real name is Christian Pearson.
Stick